Triple wavelength laser hair removal machine with 2 handles
Views: 14 Author: Site Editor Publish Time: 2020-09-08 Origin: Site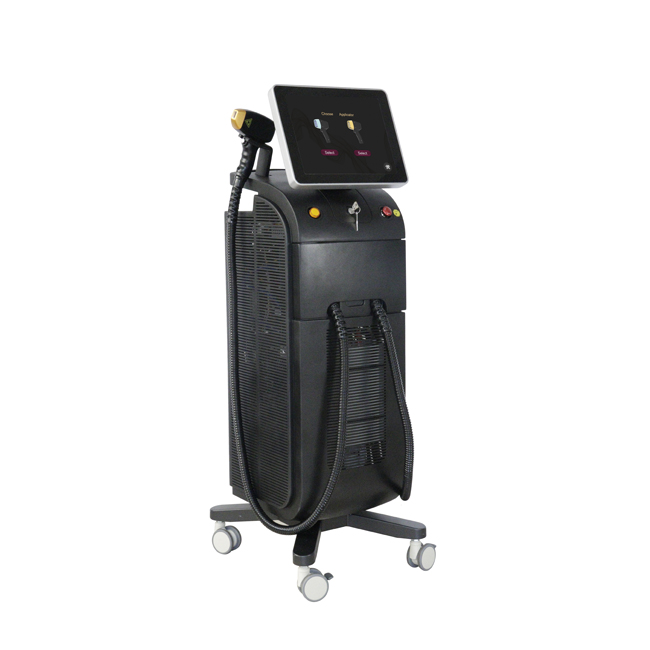 Weifang KM Newest laser diode hair removal machine with 2 handles.
Laser hair removal machine have been poular since 2000'S, Actually, the people who were already into hair removal were the first ones to happily adopt laser hair removal. But they were not the majority. Many people never think about the laser hair removal treatment, but prefere the traditional waxing. Furthermore, they were still hesitant to try out the newly introduced laser technology. So what happened that turned their minds around to give the idea of becoming smooth a chance?
At the early of 2020, we made our newest laser diode machine with 2 laser handle.
One laser handle with 12*12mm2 small spot size. One Laser handle with 15*27 or 12*35mm2 spot size. The smaller laser handle can be used for samall area diode laser depilation treatment. The bigger spot size handle can be used for back, arm etc area permanent hair removal treatment.
From the design, our diode laser machine similar with Alma Soprano Titanium ice laser, but they are different machines.
Weifang KM laser machine combine the 755nm laser, 808nm laser and 1064nm laser together in one laser handle. The different wavelength can reach different skin depth for hair removal machine. But Alma laser machine need 3 heads to reach the treatment. So our laser diode hair removal machine will be a little convenient than Alma soprano ice laser.
Why choose our 808 laser diode hair removal machine ?
Much stable and higher powerful new golden welding laser module with German DILAS bars . It can shot about 20 million times .

Double water filters , only change filters per 6 months and 1 year. And some old filters in some machines need change filter every month . Save much maintainance cost and times for you .

New Italy Bluid-o-tech imported water pump replaced Chinese pump with better cooling system and more quiet duirng treatment . Those obvious difference will be found when your customers compare with some machines with Chinese water pump .

Japan TDK Six way power supply replaced four way power supply, much higher and stable output .

TEC cooling system , can control water temperature by yourself to keep 808 diode laser machine running continuously within 24 hours even in Summer . Same function as your A/C in your house .

Various power laser modules for your option , 300W 500W 600W 800W 1000W 1200W ... (6bars 10basr 12bars )

Single 808 wave, 755nm/808nm/1064nm double wave and triple wave for option .

Same inside parts as Alma soprano ice platinum laser